the Creative Guitar Mastery™ series
The Creative Guitar Mastery™ Series is college-level learning geared toward that special learner trying to nurture your own unique creative voice through the practice of creative guitar. This learning offers top-down, thorough, and practical knowledge leading toward a complete mastery of the guitar as a creative instrument.
ISSN (International Standard Serial Number) Information
Creative Guitar Mastery (print) ISSN 1545-8385
Creative Guitar Mastery (CD) ISSN 1545-8407
Creative Guitar Mastery (online electronic) ISSN 1545-8393
The Creative Guitar Mastery Series
www.CreativeGuitarMastery.com
an imprint of Double Planet, Ltd. Co.
1332 Cat Gap Clayton, Georgia 30525
Web:  www.DoublePlanet.com
E-mail:  chris@doubleplanet.com
Phone: 1-(706) 438-2053
Current Products & Services Related to Guitar Learning
Creative Guitar Mastery: Movable Chord Workbook (Print Edition)
Authored by j. Christian Miller
List Price: $9.99
8.5″ x 11″ (21.59 x 27.94 cm)
Black & White on White paper
24 pages
CreativeGuitarMastery.com
ISBN-13: 978-0974357157
ISBN-10: 0974357154
BISAC: Music / Instruction & Study / Techniques
Movable Chord Workbook was written to give you the quickest path to the most complete understanding of movable chords on the guitar. You could spend a small fortune in tuition and rent, move to Boston and go to a fancy private college and study guitar and music theory for years to learn this stuff.
I wrote it in an attempt to fill the gaps in the information available to the student of creative guitar who is seeking to tune-in to their own unique creative voices. There is a lot of information here. Hopefully, the sheer volume of all that's here will not overwhelm the mindful student.
Instead, I hope that you will keep a copy of this book around for years to come and refer back to it every now and then to realize how much the material here can transform your playing as the ideas take root in your mind.
I tried to make the smallest, yet most complete chord book possible. Therefore, I omitted the instruction for the book to a bare minimum. It is simply a movable chord workbook.
There are lots of chords books out there, but this one is simpler, leading to more complete understanding.
Use the book as a reference, to complete your understanding, and especially application of movable chords.
Read the Front Material here… front-material
Creative Guitar Mastery: Modal Improvisation 101 (Print Edition)
Project Summary
Creative Guitar Mastery:: Modal Improvisation 101
Authored by Mr Christian Miller
List Price: $12.99
8.5″ x 11″ (21.59 x 27.94 cm)
Black & White on White paper
64 pages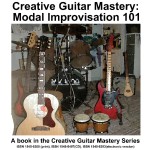 CreativeGuitarMastery.com
ISBN-13: 978-0974357102
ISBN-10: 0974357103
BISAC: Music / Instruction & Study / Techniques
Modal Improvisation is a very natural way to learn the entire fretboard of the guitar in a way that is immediately accessible. This complete course, currently in book and audio CD, contains over 1 hour of music for the student of creative guitar to practice along.
The Creative Guitar Mastery™ series was created and concieved by Chris Miller to enable the student to master the entire guitar fretboard. At the same time it also builds a foundation for the more advanced study of tonal organization of the modal colors . This 64 page Book & Audio CD combo emphasizes developing real-life, practical and useable skills.
This ongoing course offers exceptional tutoring at a truly exceptional price, about the cost of an Audio CD. Continue on your own path, at your own pace, with the Creative Guitar Mastery Series.
Creative Guitar Mastery: Modal Improvisation 101 (iTunes iBookstore Edition)
This ePub and the music that accompanies it is a complete study course of basic modal improvisational concepts on the guitar. The course is conducive to both self-led or instructor-led study. The major part of this teaching product is the application of modal improvisational techniques in a very natural way, using real playing examples. With rhythm section accompaniment covering diverse feels, the music (available on CD or in iTunes) allows the aspiring improvisational guitarist to play uninterrupted lead guitar along with a rhythm section.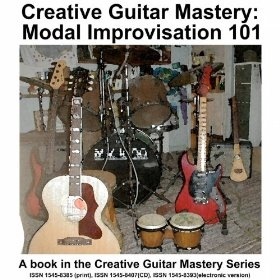 The music contains examples of each of the seven natural modes in turn. The student plays lead guitar with the music examples and applies the principles in the book to real musical situations. Teamed with the music, this instructional book is packed with information that builds mastery in the application of these concepts in a very useful, organic way. This innovative courseware increases freedom in playing and mastery of the entire fretboard, while establishing a foundation to understand and apply more advanced concepts of tonal organization. A framework for organization of the Tonal Colors available to the practicing creative guitarist is thereby explored. Regardless of your current skill level, the wealth of information in this course will carry you to the next level in your quest for creative guitar mastery.
Get The Book Here —>http://itunes.apple.com/us/book/creative-guitar-mastery/id474012774?mt=11
Creative Guitar Mastery: Modal Improvisation 101 (Accompanying Music – CD)
Get the accompanying music Here —> http://itunes.apple.com/us/album/creative-guitar-mastery-modal/id473356683
Get the accompanying music Here —> http://itunes.apple.com/us/album/creative-guitar-mastery-modal/id473356683
Creative Guitar Mastery: Modal Improvisation 101 (Accompanying Music – iTunes Download)
The Creative Guitar Mastery Series
CreativeGuitarMastery.com™
ISSN 1545-8385 (print),
ISSN 1545-8407(CD-ROM),
ISSN 1545-8393(online)
© Copyright 1991 – 2017 – DoublePlanet.com™ Learning & Entertainment Content Development, Publishing & Consultation
All Rights Reserved